Events and Programmes
School and Group
Food Detective 2023/24
Kindergarten Programme
Date:
Monday to Friday: 09:00-11:30 or 14:00-16:30
(Closed on Tuesdays)
Saturday: 09:00-11:30
Numebr of Persons:
22 to 56 persons
Fee:
$250 per head
$120 per head for Registered non-profit-making (NPM) kindergartens (KGs) and Registered Charity
Low Carbon Living
Connect with Nature
Kindergarten
Families and Kids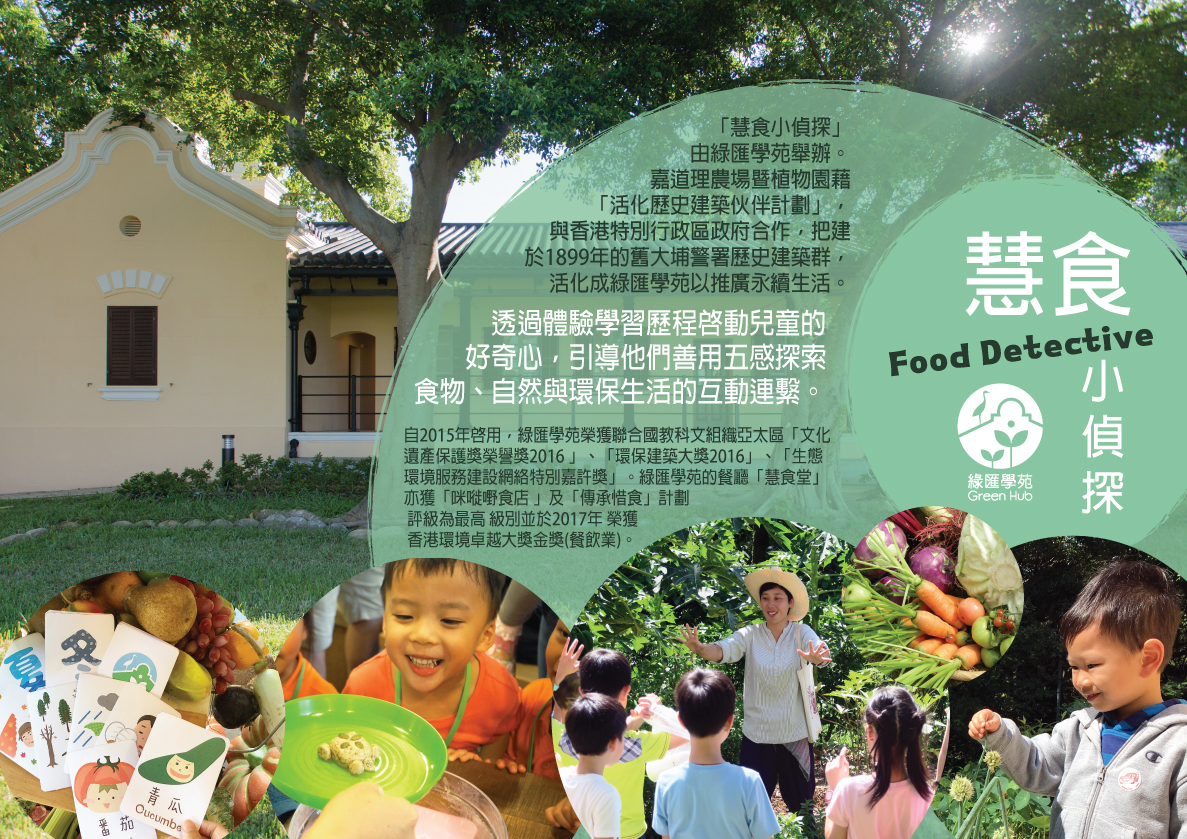 The Green Hub's Food Detective Workshop is a food education programme which encourages children to explore our relationship with nature through an array of sensory games and hands-on learning experience.
Through a joyful learning experience, children will deepen their connection with nature and embrace good eating habits to harmonise our relationship with nature.
Highlights
Energise children's five senses by exploring the nature's colour, aroma and beauty at an organic food garden.
Making Low-carbon Snacks1
Get to know and recognize the ingredients, share sustainable living tips through low-carbon snacks making activity.
The magic journey of soil
Learning the importance of soil for crop production and discover the process of composting food waste through hands-on activities.
Celebrate abundance in nature by composing a song with natural instruments and a mindful eating activity.
Group Size
22 to 56 persons (Including teachers/instructors)
Target
4- 6 years old (Parents are welcomed to join)
Date / Time
Monday to Saturday: 09:00-11:30 or 14:00-16:30
(Closed on Tuesdays; Only AM session is available on Saturday)
Fee
$120 ** per head (Exclusively for registered whole-day school and charity)
$250 per head (Same price for Children and Adults)

** With verification from the school/organization, workshop fee will be waived for participants from low-income families.
Application Form
Please fill in the online application form.
Food Detective_Application Form_2023
Enquiry
2996 2826 / ghprog@kfbg.org
Note 1 School can choose to enjoy the tea break at the Green Hub or take away the snack with self-prepared food containers.